Forex Trend Indicators Free, Easy Setup
Here are the instructions for setting up the free forex trend indicators on any metatrader platform. The indicators are great forex trading tools and can be used to conduct multiple time frame analysis, follow the trends of the market and our trend based trading plans. The indicators are adaptable to most forex trading and charting systems. These indicators are quite simple but very effective for market analysis.
Instructions For Setup
These instructions are for setting up the forex trend indicator on a Metatrader platform, however experienced traders can set up these simple exponential moving averages on almost any good quality forex charting platform.
1. Open up a Metatrader platform from any broker you wish. A Metatrader platform from any broker is fine.
2. Open up a chart on one pair. One way to do this is to right click on a pair in the quote window and symbol area and click on "chart window" in the drop down menu. The chart will be added to the platform.
3. Go to the top tool bar and there is an icon that looks like a magnifying glass with a + sign. You can click on the + sign twice to magnify the chart. Some personal choice is involved here but if you do this the charts will match the setup we use every day. There are images of this exact setup all over our website to check against so you know you have set the charts up correctly.
4. In the "Navigator" area under "Indicators" right click on "moving average", then click on "attach to a chart".
5. Fill in the fields like this:
Period: 5, ma method: exponential, apply to: close, style: green, line thickness second one from the top.
6. Repeat step number 5 and fill in the fields like this:
Period:  12, ma method: exponential, apply to: close, style; red and line thickness second one from the top.
7. On the "visualization" tab check "all time frames" then click OK.
You now are finished with the setup on one pair for all 9 time frames. Repeat the process for each successive currency pair. It takes about 30 minutes to set up all 28 pairs we follow. If you do this once all of the settings will be saved automatically for all of the pairs.
Forex Trend Indicator Screenshots
After you have installed the trend indicators on Metatrader you can check them against the image below to see if they match. We also have various chart examples all over our website and a chart library on our forex blog, to run further side by side checks. This is what they look like.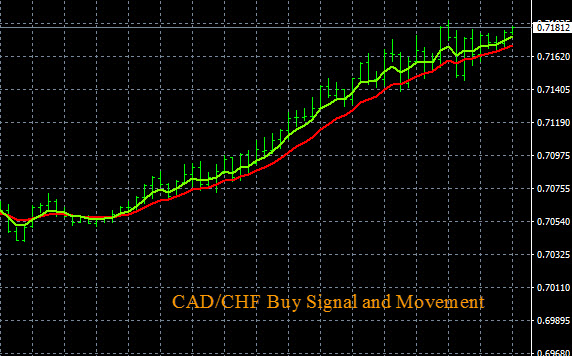 Setting Price Alerts
The Metatrader platform has free desktop price alarms built into the platform. These are audible alerts that sound when price levels are breached. You can set them on all 28 pairs we follow. The daily trading plans that we issue work extremely well with the price alarm system. Each trading plan we issue contains specific alarm points across several of the pairs we follow, to monitor for breakouts in the direction of the major trends of the market. So traders can check with your broker on how to get these price alerts delivered to your cell phone.